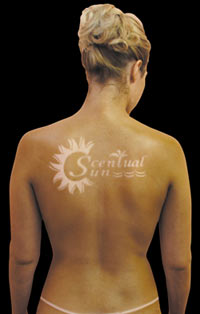 Airbrush tanning should be performed safely and comfortably following FDA guidelines. In just fifteen minutes we can spray tan you professionally in a clean, aesthetically pleasing environment. Best of all, you choose the color level and fragrance you desire! Pick from twelve delightful fragrances and colors ranging from very light to a dark tropical tan.
Unlike other companies, Scentual Sun developed and owns its own organic airbrush tanning solution formulas and has direct control over their manufacture. Utilizing only all natural, organic, FDA approved ingredients, we guarantee our customers and yours the finest quality and consistently produced products necessary to deliver excellent results time after time.
Our growth as a airbrush tanning manufacturer depends on the success of our customers. We are dedicated to and have a vested interest in your success. Offering a free, extensive, hands on, professional airbrush tanning training course at our corporate headquarters in everything from application techniques to effective marketing strategies is the exception not the rule in this industry. There are no application videos that can take the place of this training and this further shows our dedication to the success of our customers.
You are our most important asset! From unique top quality airbrush tanning systems, organic solutions, fragrances and equipment to unparalleled training, technical support and warranties, Scentual Sun Airbrush Tanning Systems is dedicated to being your "partner in success."

Airbrush Tanning Overview and Pre-Purchase Manual (Click here)